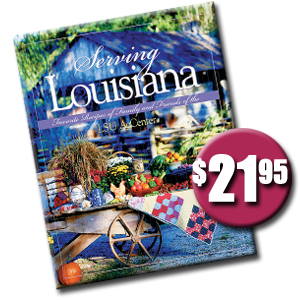 • Authentic Louisiana Recipes...
Jambalaya, sweet potato pie, pralines
• From Authentic Louisiana Cooks...
John Folse, Paul Prudhomme, Justin Wilson
• And LSU Celebrities...
System President William Jenkins
Football Coach Nick Saban
Basketball Coach John Brady

Serving Louisiana is the perfect title for our cookbook. Its pages contain not only delicious recipes served in Louisiana, but valuable facts about how the LSU AgCenter is "serving Louisiana." So as we serve up an array of scrumptious recipes, we hope you'll delight in Serving Louisiana. Take it home, put on your apron, and be prepared to enjoy.
--Chancellor Bill Richardson
LSU AgCenter
• 67 sidebars
• 244 recipes
• 177 contributors
• 228 pages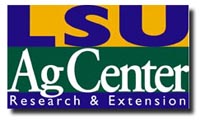 LSU AgCenter
The LSU AgCenter thrives on not only serving citizens of Louisiana but also serving up great recipes from a host of AgCenter friends, including well-known chefs John Folse, Paul Prudhomme, the late Justin Wilson, Mike Anderson, and Joe Major.
The setting for the photos for the cookbook is the LSU Rural Life Museum. Set on a 450-acre plantation in the city of Baton Rouge, the museum reflects largely forgotten lifestyles and cultures of pre-industrial Louisiana. It is our hope that you'll join us as we serve Louisiana and take part in the wonderful recipes and Cajun cooking from our state.
Serving Louisiana features:
• Traditional recipes from the great state of Louisiana
• Special "Lagniappe" section including a Cajun glossary
• Nutritional profiles