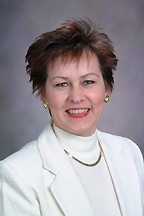 Dr. Heli Roy,
PhD, RD, LDN
EFNEP State Coordinator
Dr. Heli Roy
Dr. Heli Roy is the EFNEP State Coordinator and also the Health & Nutrition Division leader. She received her MS (1981) and PhD (1996) degrees in Human Ecology (nutrition) from Louisiana State University in Baton Rouge and her BS in human nutrition in 1977, from Syracuse University .
Dr. Roy is a Registered Dietitian since 1982 and she served as Nutritionist Coordinator for the Office of Public Health, in Baton Rouge , Louisiana . Before coming to LSU, Dr. Roy was an Assistant Professor in the Department of Human Nutrition and Food Systems Management, and the Director for the Nutrition Research Institute, The University of Alabama.




[ LESSONS || SITE MAP || LOCAL AGENTS || RESOURCES ||
PEOPLE || HOME ]
---
Issued in furtherance of Cooperative Extension work, Acts of Congress of May 8 and June 30, 1914, in cooperation with the United States Department of Agriculture. The Louisiana Cooperative Extension Service provides equal opportunities in programs and employment. Information and Graphics on this site are copyright protected by LSU Agricultural Center's Louisiana Cooperative Extension Services. For more information on the EFNEP program, contact EFNEPMail@agcenter.lsu.edu.