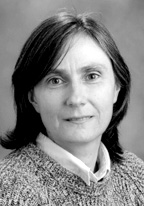 Dr. Carol O'Neil, Ph.D., R.D.
Dr. Carol O'Neil, Ph.D., R.D.
Dr. O'Neil received her PhD in biology from Tulane University Graduate School, her MPH (Nutrition) from Tulane University's School of Public Health and Tropical Medicine, her MS in biology from the University of New Orleans, and her BS in zoology from the University of Arizona. She is also a registered dietitian. In addition to teaching nutrition courses she is the DPD Program Director. Professional memberships include The American Dietetic
Association, The Louisiana Dietetic Association, The Baton Rouge Dietetic Association, and the Institute of Food Technologists. Her research interests lie in community and public health nutrition.



[ LESSONS || SITE MAP || LOCAL AGENTS || RESOURCES || PEOPLE ]
---
Issued in furtherance of Cooperative Extension work, Acts of Congress of May 8 and June 30, 1914, in cooperation with the United States Department of Agriculture. The Louisiana Cooperative Extension Service provides equal opportunities in programs and employment. Information and Graphics on this site are copyright protected by LSU Agricultural Center's Louisiana Cooperative Extension Services. For more information on the EFNEP program, contact EFNEPMail@agcenter.lsu.edu.